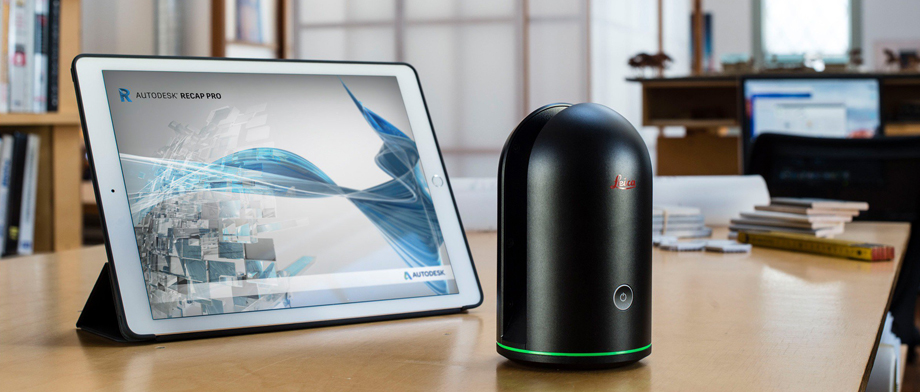 BLK360 Imaging Laser Scanner
Allows you to scan in high, standard and fast resolutions
Weighs 1kg / Size 165 mm tall x 100 mm diameter
Less than 3 minutes for full-dome scan (in standard resolution) and 150 MP spherical image generation
360,000 laser scan pts/sec
ReCap Pro Software
Gain complete access to ReCap Pro for desktop, web and mobile*
Control all aspects of the reality capture process remotely on ReCap for iPad
Automatically register and visualise scan data in the field
Mark up, tag and collaborate on scans while on the job site
Reduce rework requests and share reality data remotely
Seamless data transfer into Autodesk design software
With the combination of the BLK360 and Autodesk ReCap Pro, benefit from:
Speed
On-the-fly image and point cloud processing in the field.
Portability
Flexibility to scan wherever, whenever with the small lightweight scanner that fits into a messenger bag.
Ease of Use
Push-button scanning that automatically stitches and registers in the mobile version of ReCap Pro.
Cloud Connectivity
Better collaboration and virtualisation with cloud sync.
Simplified Data Collection
Two-in-one 360º image documentation and laser scan data.
Interoperability
Reality capture data connectivity with Autodesk's design solutions.
Leica BLK360 Product Specifications
GENERAL
Imaging scanner
3D scanner with integrated spherical imaging system and thermography panorama sensor system
DESIGN & PHYSICAL
Housing
Black anodized aluminium
Dimensions
Height: 165 mm / Diameter: 100 mm
Weight
1kg
Transport cover
Hood with integrated fl oorstand
Mounting mechanism
Button-press quick release
OPERATION
Stand-alone operation
One-button operation
Remote operation
iPad app, Apple iPad Pro® 12.9" or 10.5"/iOS 10 or later
Wireless communication
Integrated wireless LAN (802.11 b/g/n)
Internal memory
Storage for > 100 setups
Instrument orientation
Upright and upside down
POWER
Battery type
Internal, rechargeable Li-Ion battery (Leica GEB212)
Capacity
Typically >40 setups
SCANNING
Distance measurement system
High speed time of fl ight enhanced by Waveform Digitizing (WFD) technology
Laser class
1 (in accordance with IEC 60825-1:2014)
Wavelength
830 nm
Field of view
360° (horizontal) / 300° (vertical)
Range
min. 0.6 - up to 60 m
Point measurement rate
up to 360'000 pts / sec
Ranging accuracy
4mm @ 10m / 7mm @ 20m
Measurement modes
3 user selectable resolution settings
IMAGING
Camera System
15 Mpixel 3-camera system, 150Mpx full dome capture, HDR, LED fl ash Calibrated spherical image, 360° x 300°
Thermal Camera
Longwave infrared camera
Thermal panoramic image, 360° x 70°
PERFORMANCE
Measurement speed
< 3 min for complete fulldome scan, spherical image & thermal image
3D point accuracy
6mm @ 10m / 8mm @ 20m
ENVIRONMENTAL
Robustness
Designed for indoor and outdoor use
Operating temperature
+5 to +40° C
Dust/Humidity
Solid particle/liquid ingress protection IP54 (IEC 60529)
DATA ACQUISITION
Live image and scanned data streaming
Live data viewing and editing
Automatic tilt measurements